Annacia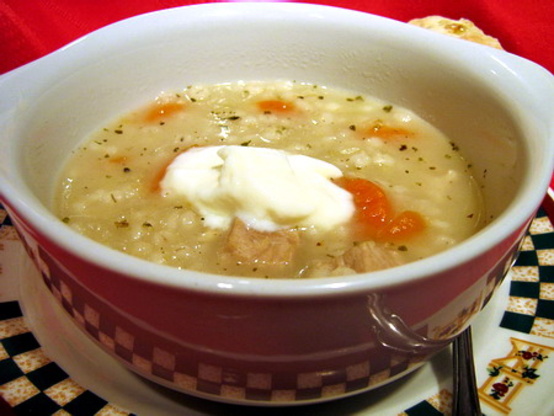 Another soup recipe from *Stroganov to Strudel* (Great Traditional Cooking From Germany, Austria, Hungary & the Czech Republic) - Thanks to my great-uncle Emil (Placek) who married my great-aunt Loretta (Sullivan), my Irish family was exposed to & I grew up loving the Czech cuisine. Soups like this easy-fix + a salad made from their garden of plenty are fond memories of my childhood (Like most soups, time is almost all cook time, but I also allowed 10 min for ingredient prep). *Enjoy* !

Top Review by Wobin
I was a bit scared because this recipe seemed so simple. The end result was very enjoyable. It was mild and comforting almost like chicken noodle soup but with more of a kick. I was going to use barely but forgot to buy it at the store so I went with rice. I used a pork tenderloin instead of the pork shoulder because it was on sale. It made perfect pink little chunks of meat in the soup. Next time I will try the shoulder because I am thinking it might shredd nicely instead of having the cubes making it feel like more of a hearty soup. I put a lot of pepper in and topped with a dallop of sour cream. I wasnt sure what else to serve with it so I made some focaccia bread and it went well. I might look for a nice Czech bread recipe just to make it more fun when serving guests.
12

ounces pork shoulder or 12 ounces pork tenderloin, lean & cut into 1/2-in cubes

1

large onion (finely sliced)
2⁄3 cup carrot (finely diced)

3

garlic cloves (crushed)
6 1⁄4 cups water or 6 1⁄4 cups de-fatted pork stock

2

teaspoons fresh marjoram (chopped)

6

tablespoons long-grain rice (cooked, See note below) or 6 tablespoons pearl barley (cooked, See note below)
salt & freshly ground black pepper
sour cream, a dollop to garnish (optional)
Put the pork cubes, onion, carrot & garlic in a lrg pan. Add water (or stock if using).
Simmer for 1 to 1 1/2 hrs till meat is tender.
Skim (if necessary) b4 adding marjoram. Season w/salt & pepper to taste pref & simmer for a further 5-10 minutes.
TO SERVE: Place rice (or barley if using) in serving bowls & ladle the soup over it. In true Czech tradition, garnish w/a dollop of sour cream as desired. Just too easy, isn't it?.
NOTE: This *Cooks Tip* was noted: "For a more substantial soup, dbl the amt of rice (or barley).".