Cut Flower Preservative #3
Rita1652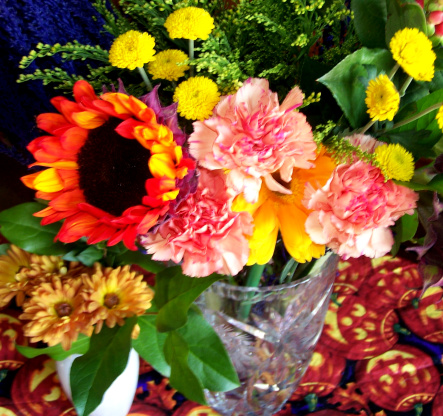 I stumbled across this recipe for making your own flower preservative on About.com today. TIPS: To keep your cut flowers fresh you need to give them water & food, protect them from decay or infection plus keep them cool and out of direct sunlight. Try to keep your flowers away from ripe fruit as the gases will shorten their life. Keep them in a cool area and away from direct sunlight. Flowers with milky latex-containing sap such as poinsettia, heliotrope, hollyhock, euphorbia and poppy need special treatment The milky sap prevents water loss by the stem but in cut flowers it prevents the absorption of water. To prevent this problem dip the bottom tips (--1/2 inch) of the stems in boiling water for about 30 seconds or by flashing the tips of the stems with a lighter or other flame.

After doing your first recipe which was the same as my Recipe #114031. I wanted to do one of your other choices. In the picture are some of the flowers from the recipe #114031 in the small vase in front of the main vase. Take note that was from Sept 29 and they are still going strong. I do like the aroma of the lemon better then the vinegar. So far all is good. I will be back to update on how long these made it. Thanks!
2

tablespoons white vinegar

2

tablespoons sugar
1⁄2 teaspoon bleach, household

1

quart warm water (tap water ok but if it's high in salts and fluorides distilled is better)
Discard decaying leaves & flowers and any foliage which would be below the water line plus any unnecessary leaves.
Trim bottom ends of flower stems by cutting on an angle to maximize the surface area for water and to prevent the ends from resting flat on the bottom of the vase.
Mix all 3 ingredients being sure to use warm water (100-110F or 38-40C) as it will move up the stems more effectively than cold water then add flowers.