ImPat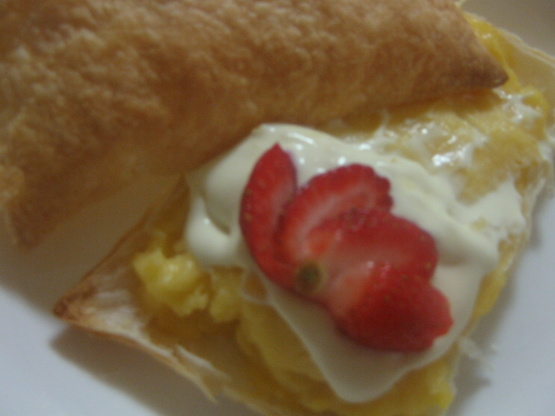 I found this recipe on an Estate Agents advertising flyer! Tried it out and the family loved it, I have now made it every weekend for the last month :) The first time I made it, I only realised too late that I had no custard powder, so substituted a packet of Vanilla Instant Pudding, made as per directions on the packet.....the children say they like that version best! so if you dont care for making custard, just sub some Instant pudding mix :) Between store-bought puff pastry and instant pudding mix, this one's a breeze... but I have made it as per the original recipe, below, with equal success, DH prefers the real thing :D

Top Review by ImPat
Wonderful dessert. I used 2 prerolled puff pastry sheets measuring 24c x 24cm and cut them into 6 rectanges of 8cm x 12cm and then proceeded as per recipe. I filled 11 of them (the 12th got crumbled splitting it). I baked them for 15 minutes at 180C fan forced but could have done with an extra 2 to 3 minutes. I was the only one who thought the custard was a little too sweet (so will look at cutting back the sugar by a 1/4). I served with some cream and strawberries. The DH as requested to be served again and suggested mixing some lightly stewed diced apple with the custard mix and then some cream on top. This is a recipe which you could easily give some seasonal changes to give it a different slant or just leave it as is in it's own delicious right. Thank you Karen Elizabeth, made for Edition 7 - Make My Recipe. UPDATE AND SUGGESTION - these have now been all devoured and thoroughly enjoyed but I would suggest making the custard first and then making as many puff pastry cases as you require (these will keep for for about 24 hours I think in an air tight container) and fill with the cold custard just before you are going to serve - this is what I will be doing, as I believe it will give you the best result especially if you wish to make ahead.
Method:.
Pre-heat oven to 200°C.
Roll out puff pastry and cut in squares ( approx 4 x 5 cm).
Place on baking tray (I line it with baking paper) and bake for 10 - 15 minutes until puffed and golden-brown.
Remove from oven and allow to cool on a cooling rack.
Filling:.
Heat the milk, cream and butter until just under boiling point.
Remove from heat and add the vanilla essence.
Mix custard powder, sugar and cornflour with a small amount of water to a smooth paste.
Add the custard mixture to the warm milk mixture and stir until smooth.
Add the egg yolks and once again, stir until smooth.
Heat slowly over a low temperature until boiling point, stirring continuously, and leave to simmer for about 5 minutes or until thickened and cooked.
Remove from heat and allow to cool till room temperature.
In the meanwhile, halve the puff pastry squares.
Spoon a thick layer of the custard filling onto one half of the pastry square.
Place the top half of the square on top of the custard.
Gently sieve/dust puff pastry lid with icing sugar.
Enjoy!