Eve S.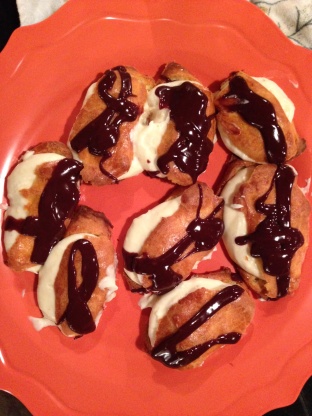 This was originally given to me as a cannoli filling and although I still use it for that purpose, it also makes a great cream puff or cake filling as well as just a delicious thick pudding. A very old recipe - origin unknown.

I had to make this twice for one cake. I had to throw the first batch out. The first time, I added the egg/flour mixture to the very hot scalded milk while the pot was still on the flame. As I was stirring (yes, it thickens VERY quickly) I noticed little brown bits in the mixture. As I stirred there were more and more. I was using a non-stick Cuisinart pot, but the custard started to burn at the sides of the pot as soon as I added the flour mixture. The more I scaped the sides of the pot as I stirred, the more brown bits got mixed into the custard. That batch was a total loss. The second time I reduced the flour to 1/3 cup and the sugar to 1/2 cup. I added the vanilla and orange extract to the egg/flour mixture. I took the scalded milk off the flame before I added the egg/flour. The scalded milk was SO hot, though, that it still started to form the brown film on the sides of the pot. So, I quickly transferred the custard into a bowl. Added the butter, whisked it some more --- and all was fine.
Scald milk, being careful not to burn.
Mix together sugar, flour and salt.
Add eggs to flour mixture and beat well.
Add slowly to milk, stirring constantly with whisk until thick.
(Thickens rapidly).
Remove from heat and add vanilla, orange rind and butter.
Stir and cool.