Curt's Brewhaus Beer Cheese Soup
Parsley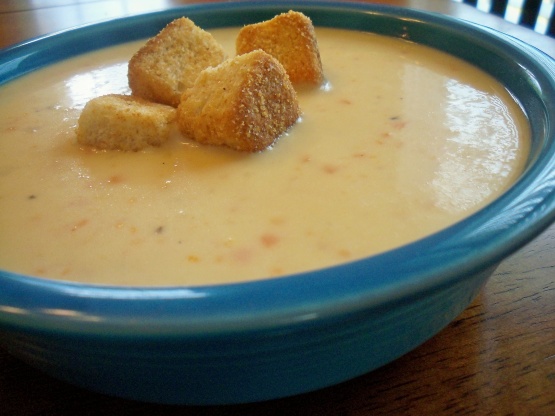 A delicious warm cheese bisque, terrific on a cold day! Starch it up a bit more by serving with sourdough croutons.

While the flavor is good, I am very disappointed by the consistency. In the description, the soup is referred to as a bisque, which indicates a thicker, creamier soup. Despite the fact that I cooked the milk base long enough to thicken (which is not even clear in the directions), the finished product was thinner than creamy tomato soup out of a can. I was very disappointed as I love beer cheese soup, and this recipe received 5 stars.
1. In a large suacepan over medium heat, stir together carrots, onion and garlic. Stir in Tabasco, cayenne pepper, salt and pepper. Pour in chicken broth and beer, simmer until veggies are tender, remove from heat (about 12-15 minutes).
2. Meanwhile, heat butter in large soup pot over medium heat. Stir in flour with a wire whisk. Cook, stirring until the flour is light brown, about 4 minutes. Gradually stir in milk, so it does not scorch, until thickened. Remove from heat, and stir in cheese, keeping warm.
3. Stir beer mixture into cheese mixture. Stir in Dijon and Worcestershire sauce. Bring to simmer. Augment spices to taste, cook 10 minutes.