PaulaG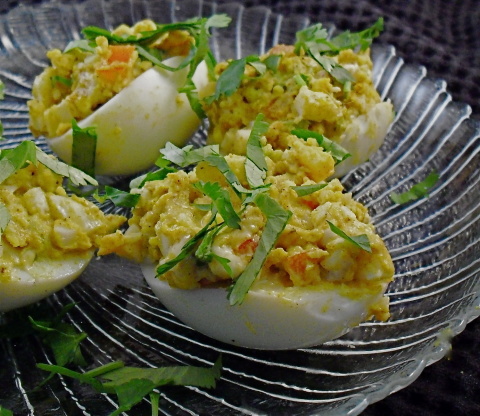 A great appetizer for parties, or as a salad for dinner, or hey, just as a great snack! Adapted from Rachael Ray's Big Orange Book!
Top Review by PaulaG
These were a nice change of pace. I will cut the eggs differently next time. The recipe was reduced to 4 eggs. To have lots of stuffing I typically use an extra egg yolk and white finely diced. In this case I used 1/2 an egg which gave me 7 halves. This is a perfect appetizer for a small gathering. Made for Aussie Swap.
Cut the fat rounded ends off the eggs, scoop out the yolks into a bowl, and stand the hard boiled egg whites upright in the egg carton. If you wish to serve the eggs on a platter, trim a small piece of egg off the pointed ends so they will stand upright.
Break the egg yolks up a little bit using a frok. Add the ginger, scallions, garlic, curry powder, mayonnaise and salt and pepper. Mash until smooth and adjust the seasonings if necessary.
Fill the egg whites, overstuffing them a little. Garnish the eggs with the red bell pepper and cilantro. Enjoy!