Curry Quinoa With Almonds and Cranberries
chris f.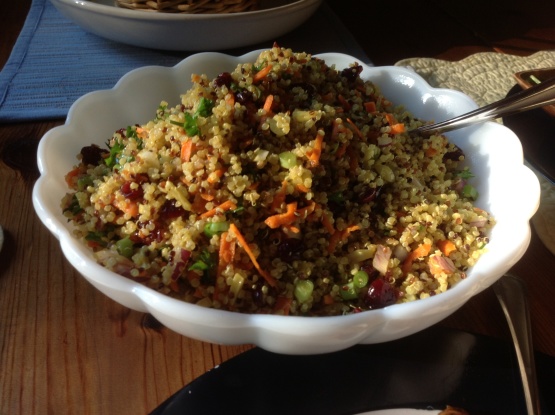 Very simple, healthy and delicious meal. If you like quinoa, you'll love this. I've brought it to many potlucks; it always gets positive remarks. I sometimes leave out the red onion for those you don't like uncooked onions. Be creative with this recipe. You can add or subtract any veggies.
This is a real crowd pleaser! The basic recipe says the yield is 4 servings, however that must be as a large main dish. As a side it goes much farther. I doubled the recipe and made only two changes - I left out the red onion and used only one shallot (according to the grocery receipt it was about 2.5 oz). The group loved it! Leftovers reheat well, too!
Place quinoa in medium bowl and soak for at least 1 hour, then drain liquid.
Boil water or broth and add quinoa, cover, and cook for 20 minutes.
In a blender add olive oil, vinegar, curry, turmeric, sea salt, and pepper.
Pour this onto the cooked quinoa. Add grated vegetables, parsley, almonds, raisins, scallions and red onions; mix well and taste for seasonings.
Serve warm or at room temperature and enjoy.