Curry-Orange Country Pork Ribs
Nif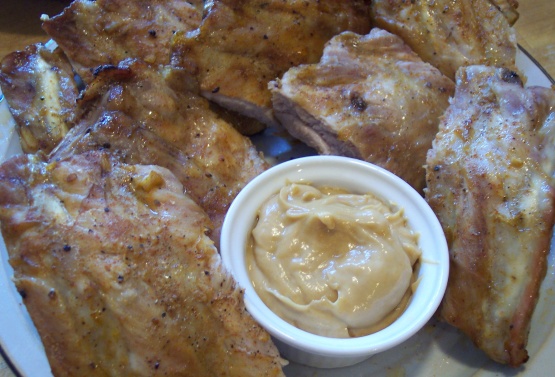 Spicy country pork ribs, cooked in the oven. Served with a peanut dipping sauce. Prep time includes marinating time.

I really enjoyed the flavor and especially loved the smell of this recipe while it was cooking. Really had my mouth watering! I followed the directions and uncovered my ribs after one hour, salted and peppered them, and continued to cook uncovered, basting every 10 minutes. Next time I think I will recover the ribs because mine dried out just a bit. The peanut sauce was very interesting. One person loved it, and another hated it. Regardless, the ribs were delicious! Served with garlic mashed potatoes and asparagus. Thanks for sharing! Made for Market Tag.
Combine the orange juice, onion, garlic, brown sugar, curry powder, ginger and red pepper.
Place the ribs in a large glass pan and pour the marinade over. Cover and refrigerate about 8 hours or overnight, turning ribs over a couple of times.
Preheat oven to 325°F.
Coat a large baking pan with rack with non-stick cooking spray.
Remove the ribs from the marinade; reserve the marinade.
Place the ribs on rack in baking pan, cover with foil and bake 1 hour.
Uncover and sprinkle with the salt and pepper and continue baking another 45 minutes, basting occasionally with the marinade.
Serve with Spicy Peanut Sauce.
SPICY PEANUT SAUCE:.
Stir together peanut butter, yogurt, soy sauce, sesame oil, hot chili oil and curry powder. Slowly add boiling water, stirring until smooth.
Serve immediately.