Sara 76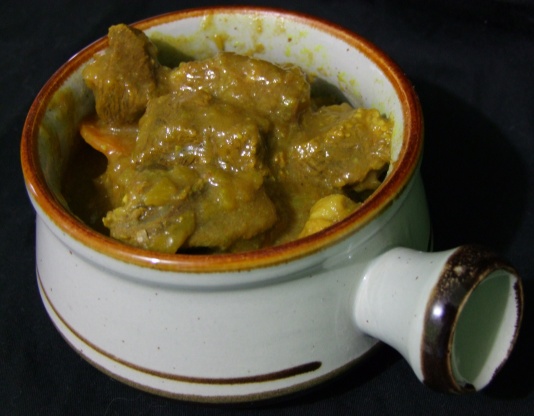 What a lovely curry dish this is! It is quite yellow in color, and the sauce is smooth and velvety. It is the combination of all the spices which makes this great dish. Use a good quality of curry and make it with any meat. It is frequently served with beef liver in East Africa. Try it with lamb or veal as a change.

This was good, but not great. I added some sliced carrots to it to give it a little colour and sweetness, but apart from that I made it as directed. The relishes are a must, as this is where this curry gets most of it's flavour. It was also nice with an extra (non-traditional) relish of chopped hard boiled eggs, and another of cottage cheese. [Made for Aus/NZ Swap]
In a 4 quart saucepan, saute the first 7 ingredients until onions are soft.
Add the Beef.
Saute lightly but do not permit the meat to brown.
Add water and lemon juice.
Cover tightly and allow to simmer for 1 hour.
If the sauce appears thin, thicken it with cornstarch and 2 T. water mixture.
Serve in a 4 quart oval bowl with RICE cooked in chicken or beef broth (allow 1 cup cooked rice per portion).
In a 6-sectioned relish dish or six small bowls, place each of the relishes.
Place the relish dish on the tables so guests may help themselves.