Curry - Lamb, Chicken, Pork or Shrimp
gerry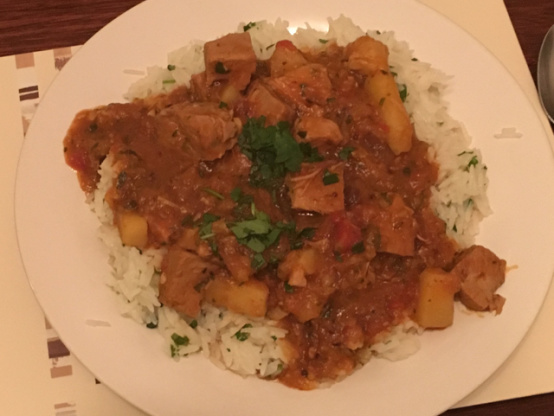 My dear MIL passed this recipe on to me, as it is one of DH's favorites. This is a great way to use leftover meat to create a delicious and classy meal. I use cubed cooked pork tenderloin with great results.This curry dish is served over rice. Side dishes can be any combination of cashews, peaches, diced apples or chutney.

Top Review by hard62
This is a good tasty recipe, a little different to the the normal curries i normally make. I halved the curry powder and added other spices like cumin and coriander. Went down a treat.
Melt butter or margarine with onions in the top of a double boiler, or in a saucepan over medium heat, stirring occasionally until onions are translucent.
Combine flour, curry powder, sugar, salt, dry mustard and dry ginger.
Add to butter & onion mixture.
Stir until blended.
Slowly whisk in the milk, stirring until smooth.
Cook until mixture has thickened, about 5-10 minutes.
Stir in the chopped meat.
Heat through.
Serve over rice.