Curry in a Hurry Grilled Chicken With Salsa and Sugar Snap Peas
loof751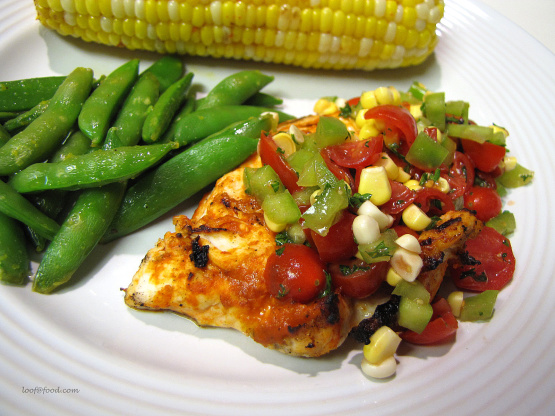 Entered for safe-keeping. Found in First for Women 6/6/11.

This is a great grilled chicken recipe! Flavorful chicken, perfect with the salsa, and lovely with the sugar-snap peas. I don't care for raw onions so left them out of the salsa. I put the curry paste mixture on the chicken about 3 hours before grilling it and the chicken really took in that great flavor. Pretty and colorful too - thanks for sharing the recipe!
SALSA: In bowl, combine Salsa ingredients. Add salt, if desired.
CHICKEN: Heat grill. In a separate bowl, mix paste and dressing. Brush half of paste mixture over chicken. Grill 10 minutes, or until 170 degrees Fahrenheit, brushing with remaining paste mixture.
SUGAR SNAP PEAS: Meanwhile, in a greased skillet over medium-high heat, cook last three ingredients 2 minutes, or until tender.
Serve peas with chicken and salsa.