KateL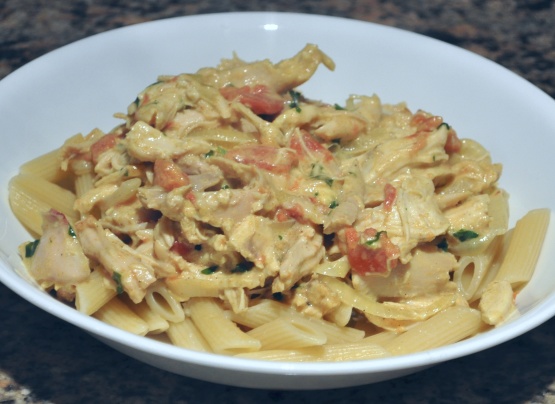 This simple quick yet delicious dish came from a dear friend. It truly captures the essence of true indian curry, but is so quick it almost makes you skeptical! give it a try! I love this with pita bread, warm flour tortillas or my personal favorite, tortilla bread by tia rosa (i get it at winco)

Top Review by KateL
For a QUICK dinner, this rates 5 stars because it was tasty with a slightly sweet mild curry taste. (If you want more complex spice layering, you will need to devote the time.) I put this in the British "curry" tradition, as it uses a premixed curry powder, and is rather mild. Due to the rotisserie chicken and canned tomatoes we used, additional salt seemed excessive, but it tasted good (don't have a doctor's appointment the next day, the salt WILL show up in the BP). My yogurt-cream HATING DH was okay because the curry and tomatoes cut the "sour" taste he despises. I added some red pepper flakes to my dish; I recommend that "spicy" folks toss in a squirt of Sriacha sauce when no one is looking. We froze the leftovers for another "instant" meal. Made for 2013 My Three Chefs.
Directions:.
Heat oil in pan, add onion, cook med-low 7 minutes.
Sprinkle with curry powder, stir and cook 1 minute.
Add yogurt and cream, cook 3 minutes.
Stir in chicken, tomatoes,salt and pepper, cilantro til heated thru.
Serve over hot Basmati rice.