Curry Dressing for Rice or Potato Salad
Jubes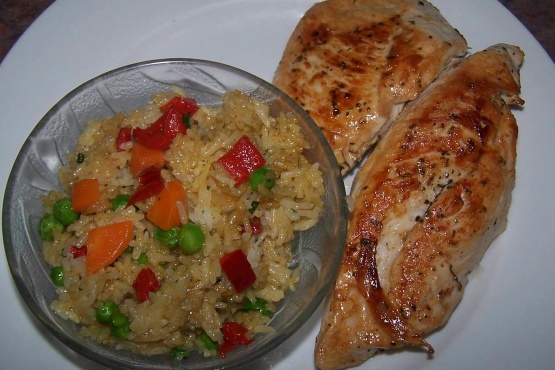 This is a versatile dressing with a refreshing flavour that brings out the best in a rice salad. I am always asked for this recipe once people taste it, as rice salads can generally be very boring. The curry powder is the old fashioned one my mum has bought for years simply called Indian curry powder. It is not curry paste or masala but a milder type our grandma's used for making curried sausages and eggs. Do not use floury potatoes, they need to hold their shape when being mixed with the dressing etc. Cooking times are for the rice and potatoes and are approximate.

Wow! This was soooo tasty! I served the dressing with a potato salad using egg, onion (and a little sping onion) green, red and yellow capsicum and corn. As I made extra, the second time I ate this salad I added some unsweetened yoghurt and it was DELICIOUS! I highly recommend this! Regardless, thank-you so much for a recipe that I will use over and over and over....
For the dressing itself

1⁄4 cup sunflower oil

2

tablespoons rice wine vinegar
1 1⁄4 tablespoons soy sauce
1⁄2 teaspoon curry powder
1⁄2 teaspoon salt

1

teaspoon sugar
Whisk dressing ingredients together and set aside. If you can leave it to stand for at least 1/2 an hour the flavours will come together better.
For the rice salad (use basmati or jasmine cooked rice, about 3-4 cups)I brown a chopped onion and half a chopped red or yellow capsicum. Then I add other veges of choice e.g. precooked carrot, corn, peas, beans etc. Pour dressing over about 15 mins before serving.
For the potato salad I use pre cooked large chunks of potato (about 6 medium size potatoes), the browned onion and capsicum and beans, but also add chopped hard boiled eggs.
Both salads are much nicer if served warm, but not hot.