A little "zing" to the all-known coleslaw. Eventhough there are just the two of us, I make the whole recipe. It keeps well in the fridge.
Directions
In a large bowl, mix cabbage, onions and peas.
In a separate bowl, mix sour cream, mayonnaise, vinegar, curry powder, ginger, and cayenne pepper.
Toss with the slaw to coat.
Cover and refrigerate.
Most Helpful
This was an unexpected surprise. Very good.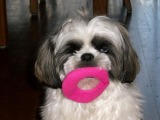 I love curry and I love this coleslaw! The curry flavour from the dressing with the sweetness of the peas is wonderful. I used a mixture of red and green cabbage, and halved the dressing for the head of cabbage I used. Thanks!!

I really liked this although I made a few changes. I used a mild version of Femmes' Revenge Caribbean Curry Mix Recipe #158082 and omitted the cayenne listed here. I also did not use the peas and reduced the vinegar a bit. The salad was flavorful, a lovely color, and kept well in the fridge. I plan to take this one to the next potluck. Thank you for sharing your recipe!!!