Curry-And-Yogurt Braised Chicken Thighs
ChefLee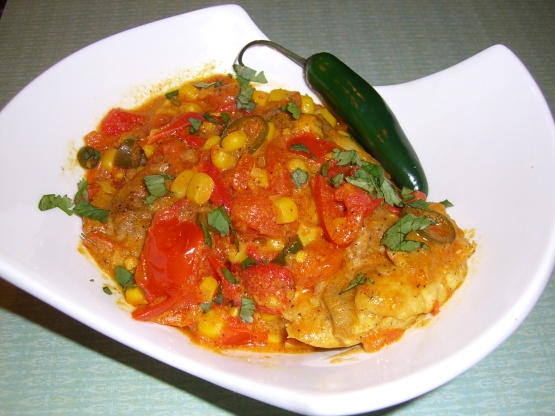 This recipe is from Food and Wine. I love curries, but so many of my recipes are too labor intensive for a week-night meal. This is relatively quick and easy. It's a great summer-time meal, when you can use farm-fresh produce. When fresh corn is not available, substitute 1/2 C frozen corn.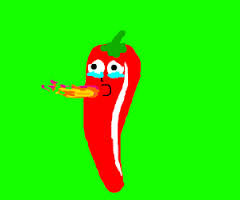 Wonderful curry dish!!!! I really love the flavor of the tomatoes with the curry. The corn is tasty in there too!! I used canned corn and roasted red bell pepper from a jar because I couldn't find fresh of either of those. Used roma tomatoes and I left out the water because I thought the tomatoes would have plenty and they did. Loved the heat of the serrano, it was just right. I used a sweet curry powder instead of the madras because I thought the serrano would be hot enough. I like a little heat but not so much that you can't taste the flavors so this worked out great! Great recipe, thanks so much for posting!
1⁄4 cup canola oil
1 1⁄2 lbs boneless chicken thighs
salt and pepper, for seasoning
all-purpose flour, for dusting

1

tablespoon gingerroot, minced

1

garlic clove, minced

1

serrano chili, thinly sliced

1

red bell pepper, cored, seeded, and cut into thin strips

1

tablespoon Madras curry powder

1

lb tomatoes, cored and coarsely chopped

1

ear of corn, kernels cut off
1⁄4 cup plain yogurt
1⁄2 cup water
cilantro leaf, for garnish
In a large, deep skillet, heat oil. Season chicken with salt and pepper and lightly dust with flour. Add chicken to skillet and cook over high heat, turning once, for 6 minutes. Transfer chicken to a plate.
Add ginger, garlic, chile and bell pepper to skillet and cook over high heat until slightly softened, about 2 minutes. Stir in curry powder and cook 1 minute. Add tomatoes, corn, yogurt and water; stir until smooth. Season with salt and pepper.
Return chicken and any accumulated juices to skillet and bring to a boil. Cover and simmer over very low heat until chicken is tender and juices are slightly thickened, about 15 minutes. Sprinkle with cilantro and serve over cooked rice.