PaulaG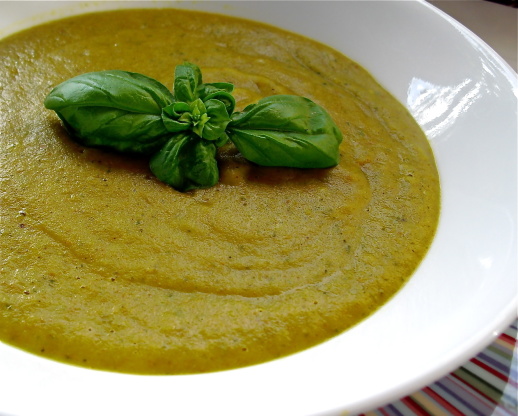 This is a lovely, spicy soup, which is sure to warm you through on a chilly day. I luv its hot flavour, which does not overpower the zucchini. My sis and me came up with this recipe when I could only eat soup due to having my wisdom teeth pulled. I hope youll enjoy it as much as we did! Feel free to sub any other squash for the zucchini and adjust the spices to your liking.

We just had this for lunch with toasted organic sourdough bread and enjoyed it very much thanks Loula. I tasted this and decided it was quite "warm" enough without adding any chilli powder (my curry powder already contains it). I gave it a rough blend, THEN added in the finely sliced scallions and reheated it all gently-this way they stayed nice and green. I served this with minted yoghurt and even if I had no yoghurt, I would serve this with mint as it really lifted the soup and gave it something extra.
Heat the oil in a big cast-iron pot.
Add curry powder and garlic. Saute until fragrant, but not too brown.
Add vegetables and sautee for 2 minutes.
Add broth (veggies should be just covered) and let simmer with lid on until veggies are tender (15-20 minutes).
Season with chili powder and salt and pepper.
Using a hand-held blender puree to your liking adding more broth if you find it too thick.
Serve with a nice crusty loaf of bread or any other item of your choice. ;).