Curried Winter Vegetable Soup
katew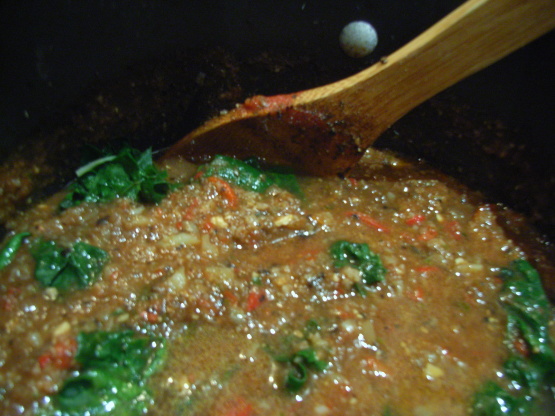 From Rachel Ray Show today with Rupert Everett. Looks really yummy - plan to make it for dinner tonight so will report back and take pictures!!

Top Review by katew
We all really enjoyed this. I had all the ingredients on hand bar fire roasted tomatoes and I had no idea what they were so left them out. My spinach was straight from the garden. I put all the vegies into the food processor to get tiny diced pieces and that saved a lot of time. It also meant that the eggplant could not be identified by fussy eaters !! This recipe makes a generous amount of soup and I will freeze the leftovers for another winter night. Made for ZWT8
44.37

ml vegetable oil

2

medium eggplants, peel half of each one and chop into bite-size pieces

1

head cauliflower, cored and cut into florets

2

yukon gold potatoes, peeled and diced into about one-inch chunks

1

large red bell pepper, chopped

1

large onion, chopped

3

garlic cloves, chopped
salt & freshly ground black pepper

473.18-709.77

ml vegetable stock, plus

236.59

ml vegetable stock, divided (or chicken stock if non-vegetarian desired)

29.58

ml mild curry paste, more if desired

118.29

ml mango chutney

425.24

g can chickpeas

793.78

g fire-roasted tomatoes

283.49

g bag spinach, thinly sliced

226.79

g bag pita chips
Place about 3 tablespoons vegetable oil in a large pot over medium-high heat.
Add the eggplant and cook for about 2 minutes, stirring.
Add the cauliflower and potatoes, turn the heat down to medium and cook for 5 minutes. Bring heat back up to medium-high and toss in the red bell pepper, onion, garlic, salt and pepper, (add a little more oil should the mixture seems dry).
Keep cooking for 5 more minutes, stirring occasionally.
Pour in stock and bring to a simmer.
In the meantime, add the curry paste and the mango chutney along with 1 cup of the stock in a food processor or blender and puree until smooth.
Pour the curry mixture into the pot along with the chickpeas and tomatoes.
Add salt and pepper to taste.
Bring the mixture up to a bubble and simmer for 10-15 minutes, (until the potatoes and veggies are nice and tender and the flavors have melded together).
Fold spinach in at the end.
Serve generous amounts in bowls and top with pita chips.
Garnish plain yogurt if desired.
Enjoy! ;).