Curried Tuna Noodle Casserole
teresas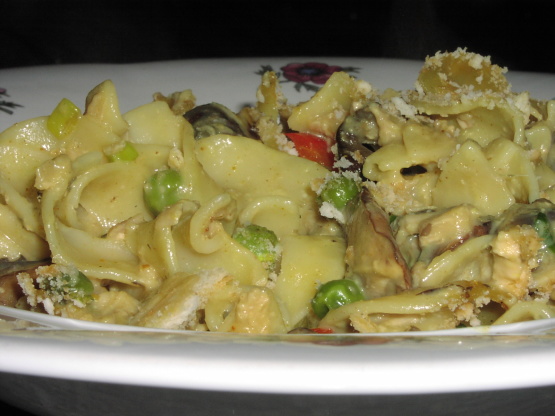 Haven't had a tuna noodle casserole in years, but this Cooking Light recipes sounds so comforting with the mushrooms, peas, egg noodles and the ritz cracker topping. Couldn't resist posting this recipe. Note: I might try this with some red salmon in lieu of the tuna. Prep time does not include cooking time for noodles.

I made this for the hubby using home canned tuna...he loved the flavor and was wondering what the awesome flavor was...(curry)...I liked that this didn't require the use of a can of stuff...I cut the recipe in half and now he has leftover...he even committed on the tasting topping...made for "For Your Consideration" tag game...
Preheat oven to 375 degrees F. Melt butter in a large nonstick skillet over medium heat. Add the mushrooms, saute 6 minutes or until soft. Add the peas, onions, bell peppers and curry; saute 5 minutes or until vegetables are tender.
Place flour in a small bowl; gradually add milk, stirring with a whisk. Add to mushroom mixture, bring to a boil. Reduce heat; simmer 2 minutes or until thick, stirring frequently. Remove from heat; stir in pasta, parsley, salt and tuna. Spoon into a 2-quart casserole dish. Sprinkle with crushed crackers. Cover and bake 20 minutes.