Curried Squashy Apples & Leeks
Bergy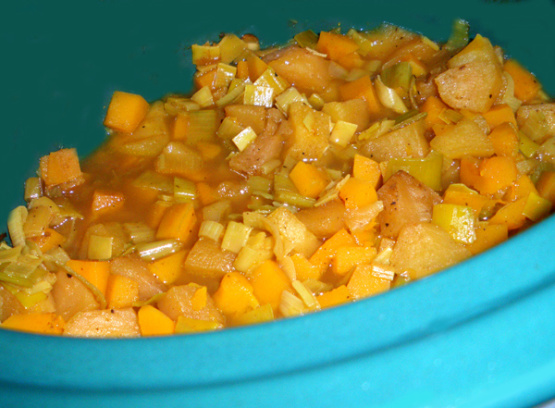 The title sums it all up. A lovely autumnal side dish that is very easy, delicious & healthy. A crock pot recipe that doesn't take all day! **I used frozen squash which worked great. Please note that whichever brand I used - it may or may not hold true for all brands - the dice was small. The apples need to be about the same size as the squash. Fresh squash probably will be ready quicker.

Top Review by Bergy
What a winner! When the recipe is cooking the house is filled with a wonderful aroma - I couldn't wait to taste it and when I did the flavor was heavenly! The curry gives it punch but does not overbear the fresh apple taste. I didn't have any cider so I used apple juice - it worked. Cooked on high for 2 1/2 hours using fresh squash, This is a comfort food that will be made again over the Winter months - Thanks Elmotoo for a real GEM
In a small pan, saute leeks in butter until softened then add to crockpot.
Add remaining ingredients to crockpot & stir.
Cook 1 1/2 - 2 hours on high until bubbly & the apples are softened.
Taste to check for seasoning. Add salt & pepper to taste.