karen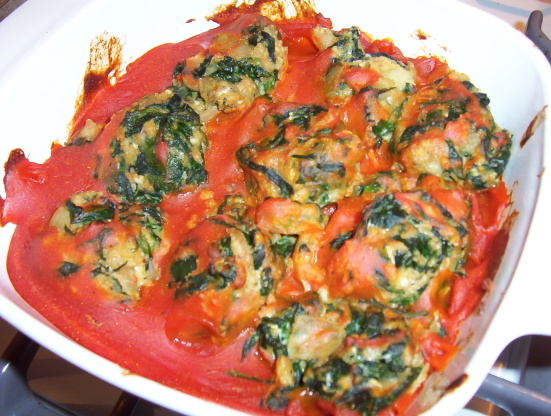 These balls go well with pasta, rice or new potatoes. The curry flavor is mild and enhances the spinach flavour

Top Review by Milla
wow, wow, wow, what a great dish. the amount of curry was a perfect compliment to the spinach, which tasted very rich and creamy when prepared this way. i used the tomato soup and threw it over tomato-flavored angel hair. we were fighting over who was going to get the last ball. this one's going into the permanent repetoire.
Chop the spinach.
Melt butter (or oil) in a large saucepan.
Saute garlic and onions until light brown.
Add chopped spinach, salt and pepper.
Cover and cook over medium heat for 5 min (or until the spinach is wilted).
Remove from heat and drain the spinach well.
squeeze it slightly.
Stir in breadcrumbs,parmesan cheese and the eggs.
Cover and refrigerate for 2 hours.
Preheat oven to 350F degrees.
Pour sauce (Soup) into a 9" baking dish.
Mix in curry powder.
Shape spinach mixture into 2" balls.
Arrange the balls in a single layer.
Bake uncovered for 30 minutes.
Half way through cooking gently turn the balls so the balls are rotated in the sauce.