Curried Spinach and Lentil Bake
Prep 15 mins
Cook 35 mins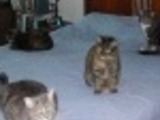 Made this yesterday, it was very easy and really tasty. It falls into the minimal ingredients category. From Country Living's shorcuts. The article said that Julia Child once said "frozen spinach is certianly one of the great inventions." Well, whatever!? She said that before they came up with rinsed and bagged spinach. I reduced the oil and used lite coconut milk. A great vegan main dish recipe, or serve it with meat for a really easy home made dinner. Use a pan that's oven-proof for easy clean-up, or if you don't have one, transfer to a baking dish. Note that lentils should be cooked first and spinach thawed and drained.
Directions
Preheat oven to 350 degrees Fahrenheit.
Cook chopped onion and garlic in olive oil in heatproof skillet over medium-low heat until trnaslucent.
Stir in basmati rice, curry powder, salt and pepper and cook two more minutes.
Add thawed and drained spinach, cooked lentils and coconut milk. Cover and bake 30-40 minutes.
Reviews
Most Helpful
This was very good, with several changes. I added lots of garam masala, lots more Madras curry, some garlic salt in the place of plain salt, some sriracha in the place of pepper, and a good deal of ginger. This made it a delicious recipe. As written, however, I believe it would have come out rather bland.

Also, the cooking time seems to be off--I had to bake mine for 1.5 hours, and also had to add about 1 cup of water as it was baking, to make sure there was enough liquid for the rice to cook properly. I recommend all of these changes.

I also made two other changes, just to ensure that I used what I had on hand: I used 2 14-ounce bags of chopped spinach, and one package of Trade Joe's precooked lentils (which equals about 2.5 cups).

But all these tweaks are worth it--this is a delicious recipe, one that my husband will love. Thanks for posting!
Wow! Tried this tonight. Had all the ingredients and wanted something with lentils. I really didn't expect it to have a whole lot of flavor, considering the few spices involved, but I was very pleasantly surprised. It tasted great! We had it with tortillas. I thought it might be too soupy, but it turned out to be perfect. I made a half sized recipe, baked for about 32 minutes. Used fresh spinach (blanched) instead of frozen, and that turned out really tasty. Definitely will make it again. My husband likes really bland food -- he said this was very "flavorful", but did like it. Kind of a comfort-food dish in my opinion.