Curried Snap Peas and Mushrooms
Bergy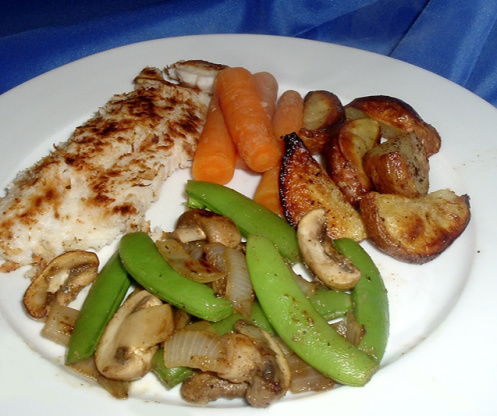 Bought too much...had to come up with an idea and this was it! This will freeze well too.

Top Review by Bergy
Well high praise from my friend that I served this recipe to ( hey I had some too). She is a very fussy eater and "Likes her veggies plain" She loved this recipe. I served it to her with steamed carrots and grilled tofu. I had it with left over Pork & Black Bean Caserole MMM from both counts thanks Happy Harry for posting
In large skillet, heat oil and butter to just sizzle stage. Add mushrooms and immediately toss. Mushrooms will soak up most of the oil. Season with garlic powder,salt and pepper. Cook on medium-high 3-5 minutes, stirring often.
Add rest of seasonings and onion. Lower heat to medium. Stir well.
Add snap peas and chicken broth. Stir well.
Cover and simmer 5 minutes. Remove from heat and allow to finish cooking off heat, covered, without stirring another 5 minutes.
Snap peas and onions will be crisp-tender.
Serve.