Derf2440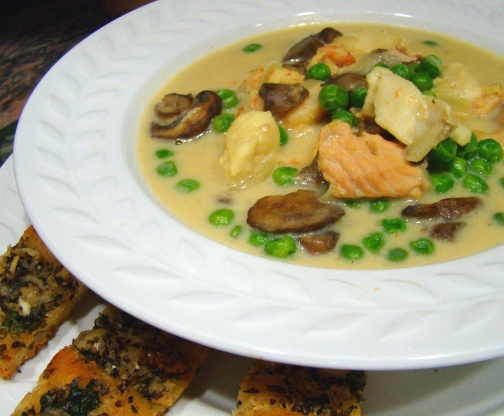 For a low-salt, low-fat diet, coat pan with nonstick spray rather than using butter and use low-sodium bouillon powder, skim evaporated milk and skim milk. Please don't substitute canned for frozen peas; they taste awful in this. Cooking time also includes final 10 minutes off flame.

Excellant chowder!! I used bits and pieces of fish and seafood from the freezer. Halibut, shrimp, salmon. I left out the sugar and had to do without the sweet pepper, green onion and the evaporated milk, didn't have any. I replaced the evaporated milk by adding the equivelent to rest of 2% milk. Testing it , I found it was overly thick, so thinned it a little with chicken stock. We loved the curry flavour, just the right amount. Served it with recipe #385880 from the freezer, reheated in the oven. Wonderful, flavourful supper, thanks for posting, I will be making this again!!
Melt butter in a dutch oven or large pot.
Over medium-high heat, sauté mushrooms and onion until tender, about 5 minute.
Stir in curry powder and flour, then stir in next 8 ingredients (evaporated milk through sugar) plus 1 1/2 cups water. Bring to a boil.
Add shrimp and scallops, return to boiling and then immediately reduce heat to a simmer.
Let simmer, stirring often (including scraping bottom of pan), until shrimp begin to curl and scallops turn opaque, about 15 minutes.
Remove from heat and immediately stir in the remaining ingredients.
Let stand 10 minutes, then serve.