Peter J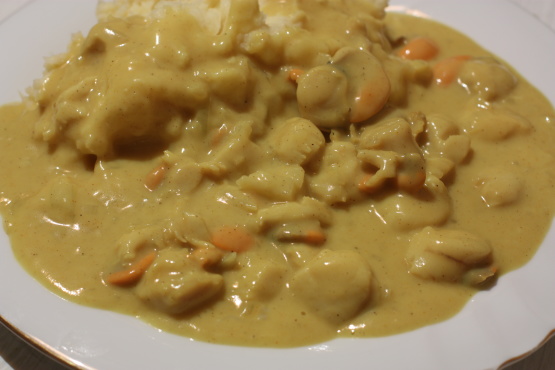 This is my favourite recipe for curried scallops. It is creamy and rich, with a nice tangy flavour to the sauce. This is the mixture I use for my curried scallop pies, or you can just serve it over rice.

Yum! A really great curry for scallops, fairly mild from a heat point of view so it's doesn't overpower them but nice and creamy and the lemon gives it a nice twist so not too boring either. Would be a really good family recipe I feel suiting a wide range of tastes, my GF is not so much into hot curries and loved them while I found the flavours subtle but interesting so loved it as well.
Melt butter, add onion and cook gently until softened.
Add flour and curry powder, mix well.
Gradually add milk and mayonnaise, stirring continuously.
Cook until sauce starts to thicken, then add scallops.
Leave on heat until scallops are just cooked - Don't over cook them!
Remove from heat, add egg and lemon juice.
Stir well, and serve hot over rice, or leave to cool and make into pies.