Peter J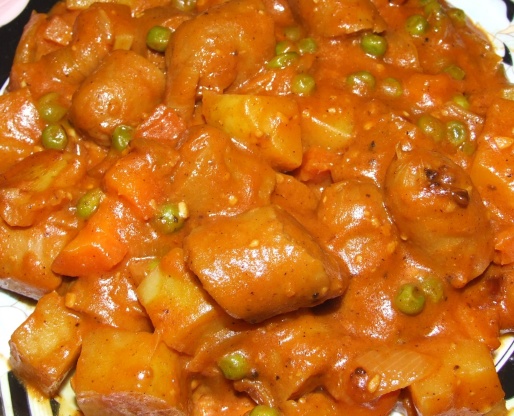 Curried sausages are quite popular comfort food in Australia, this is my recipe that I have made commercially for many years and have had lots of compliments for.

So amazing! Did kielbasa and didn't take the case off just cut it into chunks. Browned them in a cast iron skillet.. Followed with the veggies then transferred it all to a Dutch oven & added ingredients as directed. Took the lid off after 45 minutes, added the peas but ended up simmering about 10 minutes longer for the thickness of the sauce. My man inhaled this meal. Served with rice cooked in the rice cooker. How easy can it get? Yet so delish! Will make again!
Cover the sausages with cold water; bring to the boil and simmer about 5 minutes.
Drain, cool, remove skins and cut each into 4 or 5 pieces.
Heat the oil in a large saucepan and fry the onion, garlic and ginger, carrots and potatoes, stirring until the onions are soft. Add the curry powder and cook a minute or two.
Add the tomato paste, chutney, apple sauce, stock and coconut milk. Stir well, then return the sausage chunks to the saucepan.
Bring too the boil then cover and simmer about 45 minutes. Remove the lid and allow to cook about 15 minutes more to reduce the sauce a bit. If you can't be bothered, mix two tablespoon cornflour (corn starch) with 2 tablespoons water and stir this through to thicken.
1 cup of peas can be added in the last 15 minutes as well.
Season with salt and pepper and serve garnished with copped fresh coriander.