Prep 20 mins
Cook 25 mins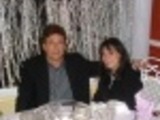 One-pot cooking helps heighten flavor. In this recipe, rice, carrots, and shrimp simmer in delicious curry seasoning.
Directions
Heat the oil in a large skillet over medium heat. Add the onion and carrots and cook, stirring occasionally, until soft, 6 to 8 minutes.
Add the garlic and curry and cook, stirring, until fragrant, 2 minutes.
Add the rice, 2 1/2 cups water, 1/2 teaspoon salt, and 1/2 teaspoon pepper and bring to a boil. Reduce heat to medium-low, cover, and simmer for 15 minutes.
Season the shrimp with 1/2 teaspoon salt and 1/4 teaspoon pepper and nestle them in the partially cooked rice. Cover and cook until the shrimp are opaque throughout, 4 to 5 minutes. Fold in the basil and serve.
Reviews
Most Helpful
Very nice, I added more garlic we like that out here after all it's garlic fest time in Gilroy and as a twist served with slices of lime.
This was a very simple recipe to follow, I may have been a little generous with the garlic and curry powder (I used a Roasted Garam Masala) so mine was quite hot, but I do like it like that! carefully judged when to add the prawns, and found this a really nice supper dish that I will definitely enjoy again. Thanks Jackie, made for PRMR recipe tag game.