Curried Rice With Cauliflower and Peas
Bergy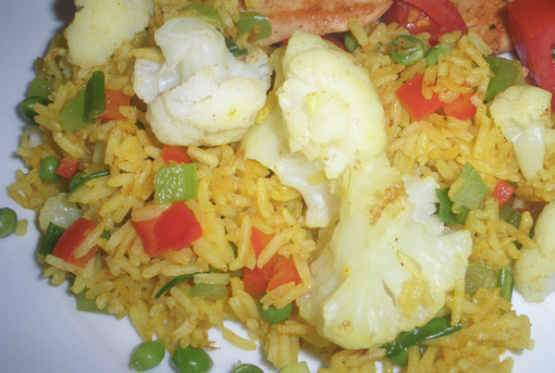 A mildly spiced pilaf, this great side dish can be turned into a complete meal by adding leftover roast chicken or cooked chickpeas. Add an additional 1/2 tsp of curry powder if you like a stronger curry flavour.

I chose this recipe when I discovered that I had run of lentils for the dish I intended to make:(. I had all the ingredients on hand except green onions. I used a leek instead - two would have been even better, I think. My red peppers were the roasted kind in a jar. The only other change I made was to use olive oil instead of butter. We have excellent olive oil here in Greece, and I generally prefer it for cooking. I followed the technique to a t The result was excellent! Both my adult children came home, and enjoyed it with the remains of a rotisserie chicken. As the poster said in the note, this is a mildly spiced curry, which suited my husband perfectly. The recipe (using a whole medium cauliflower) made enough for leftovers for lunch, which I appreciate. I may add a little cumin & garam masala to mine. Next time I may use basmati or jasmine rice instead of plain white, although it worked out well as is. Excellent healthy recipe!
Melt butter in large saucepan over medium heat.
Add ginger, curry powder and lemon zest and stir for 30 seconds.
Add cauliflower, peppers, onions, rice and salt; stir.
Add water and bring to a boil; reduce heat and cover.
Cook 15-18 minutes, until water is absorbed and rice is cooked through.
Stir in peas and black pepper, cover and let sit for 5 minutes.