Curried Quinoa Salad With Yogurt-Cumin Dressing
JustJanS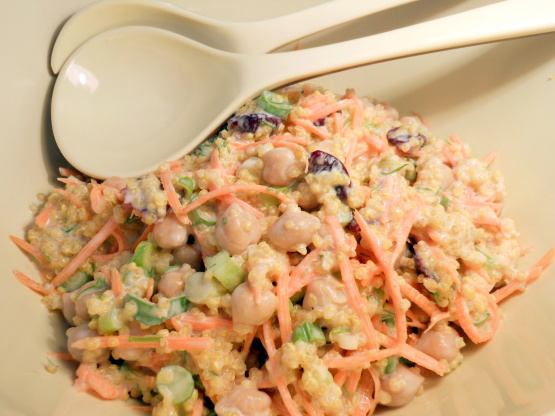 This is a "flexitarian" recipe - meaning, it's readily adaptable to a vegetarian/non-vegetarian version - a boon for those who have to deal with both in a household. While this recipe is vegetarian, the author, Dawn Jackson Blatner, says 4 ozs of cooked salmon or tuna can be used instead of the chickpeas. Check your quinoa package for prep information - usually quinoa needs to be washed to get rid of a bitter coating, although it sometimes comes pre-washed.

I changed a lot of stuff about this recipe to suit what I had in my kitchen/my taste: I used chopped bamboo shoots instead of chickpeas, omitted the lemon zest, used onion powder instead of green onions, used chopped finely chopped dried mango instead of cranberries. The dressing I think turned out a bit too lemon flavored and tangy so I added honey and more yogurt to dilute it a bit. All in all, it was a good, flavorful salad and I would definitely make it again just the way I did!
In a small bowl, mix together all the dressing ingredients. Refrigerate.
Heat the water to a boil in a large saucepan. Add the quinoa and curry powder or garam masala, lower heat to a simmer, cover and cook for 20 minutes (water should be absorbed).
Meanwhile, combine the green onions, chickpeas, carrots and cranberries in a large bowl.
When the quinoa is done, either toss with the veggies or place on plates and top with the veggies.
Serve drizzled with the dressing.