Linky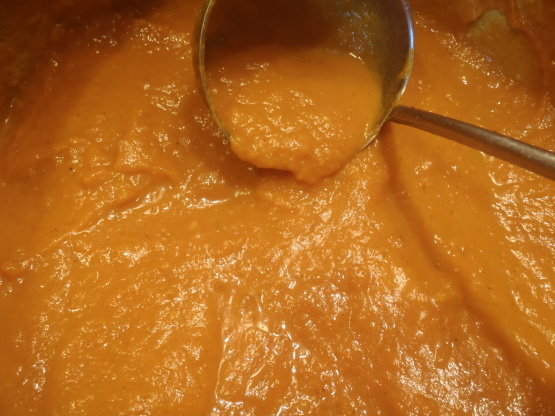 Top Review by Linky
I used a 15-oz can of pumpkin puree which gave me about 1 1/2 cups. I reduced the stock to 4 cups; used a little less curry powder; 1/4 cup of half and half for the cream. Cooked for over an hour to get it to reduce to a bisque-type consistency. Flavor was pretty good; will use a bit less curry next time though as it was somewhat overpowering. Original recipe says it makes 4 cups - must be a typo because I got more than 4 cups without using the totals called for in the original.
If using a whole pumpkin, place the pumpkin halves, cut side down, on a baking sheet and pour a half cup of water onto the baking sheet. Cover the pan with foil and bake at 350 F for about 1 hour, or until the pumpkin flesh is tender when pierced with a knife. When cool enough to handle, scrape the pumpkin flesh from the skins.
Heat the oil and butter in a large stockpot. Add the onion and sauté over medium heat until tender, about 8 minutes. Add the pears, garlic and curry powder to the pot and cook 2 minutes more. Season with salt and pepper. Add the wine or juice and deglaze, scraping up any caramelized bits on the bottom of the pot. Add the roasted pumpkin and the chicken broth and bring the soup to a boil. Reduce the heat to medium-low and simmer for 45 minutes.
Puree the soup in batches in a blender until smooth, or use an immersion blender to puree the soup in the pot. Return the pureed soup to the pot and heat thoroughly. Stir in the cream and adjust the seasoning. Do not boil.
Serve the soup in warm bowls garnished with a dollop of crème fraîche or sour cream and a few pumpkin seeds.