ktkate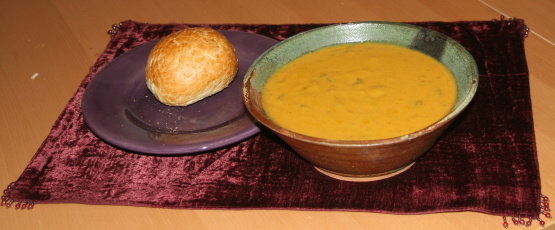 This is an excellent winter soup. Serve with a hearty bread. The first time we made this my father misread the original recipe and we added 2 cans of pumpkin instead of 2 cups. The result was a much thicker soup which we all liked. So for a thinner soup reduce the amount of canned pumpkin.

This soup is fantastic! I made it for a church group last night and they are hounding me for the recipe. I made some tweeks, as any cook does. I doubled the butter and flour becasue I wanted to ensure a thick soup. I pre-cooked a sweet potato, cubed, in the veg stock. When it came to add the stock I took out the sweet potato and added it at the very end so it would not break up. And I kept the soup chunky. NEXT I will add either shrimp, black beans or chicken breast, I will keep it super thick and serve over rice. I added alot more curry, and included some ground red pepper too! Fantastic and lots of options to create different meals.
Heat olive oil and add mushrooms, and onions. Cook until tender.
Add flour and curry.
Gradually add the chicken broth.
Cook and stir constantly over medium heat until thickens.
Add everything else, but the milk. (For a thinner soup reduce the amount of canned pumpkin).
Simmer 10 minutes.
Add the milk and stir until hot.