Curried Pumpkin, Kumera and Bacon Soup
JustJanS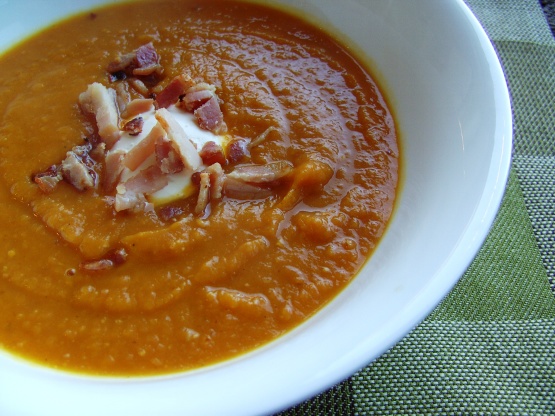 Posted for ZWT. A recipe from NZ chef Alison Holst which we've made several times and loved. Kumera is the Maori word for sweet potato

Damn this looks good...I am going to try it this weekend...but I just know its going to be yummy so I'm rating it now!
Peel the pumpkin, remove the seeds and cut into 5cm/2" cubes. Cut bacon into short strips.
Brown bacon over moderate heat in a large soup pot adding some of the butter if the bacon looks like sticking. Remove half the bacon and set aside to use as a garnish. Add the remaining buter, onions, garlic and curry powder and cook till the onion is lightly browned and transluscent. Add the pumpkin, kumera and water. Cover the put and cook till the pumpkin and kumera are tender.
Puree soup in a food processor or blender, or mash the vegies. Thin with a bit of water, milk or cream if needed and season to taste.
Serve, topped with the reserved bacon.