Curried Peanut and Tomato Soup
Ms B.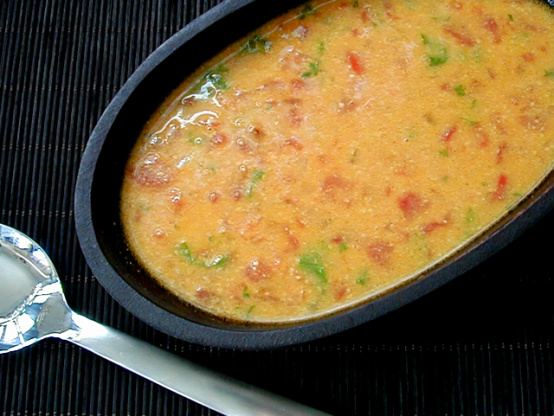 This is a simple soup with fabulous flavor from the February 2006 issue of Gourmet magazine. They suggest that you can make this vegetarian by using vegetable broth.

I used curry paste instead of powder and served the soup with chicken. The flavor was a little heavy for me at first, so I added the juice of one lime and about half a tablespoon of soy sauce to lighten it up and make it a little more "Thai". The result was delicious and I'll definitely be making it again!
Cook onion, salt, and pepper in oil in a 2 to 3 quart heavy sauce pan over moderate hear, stirring occasionally, until softened, 4 to 5 minutes.
Add curry powder and cook, stirring frequently, 2 minutes.
Add tomatoes (with their juice) and broth and simmer, uncovered, 5 minutes.
Stir hot water into peanut butter until smooth and add to soup.
Simmer, uncovered, stirring occasionally, 5 minutes.
Stir in cilantro before serving.