Bergy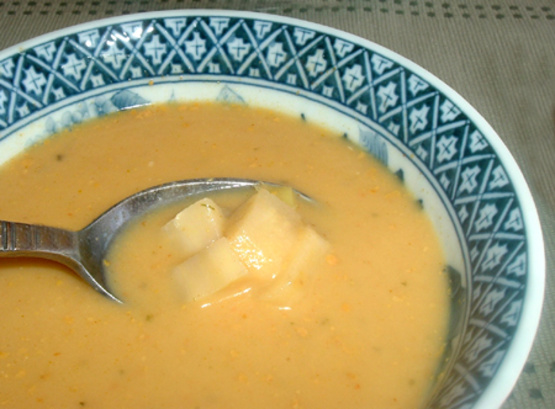 I like to serve with those delicious root vegetable crisps you can buy now. Just drop a handful into the centre of each bowlful.

Top Review by Bergy
I found the recipe had all the ingredients but was short of time. I think the oven method will mellow the ingredients but the soup turned out wonderful anyhow. So with apologies to Lene this is how I made this delicious soup. Peeled and diced the parsnips to 1/4-1/2" pieces, I had roasted garlic in the freezer. Poured the Vegetable broth into a large pot added the parsnips. garlic & coarsley chopped fresh ginger. Brought it to a boil, turned to simmer for apprx 20 minutes (until the parsnips were tender) Added the remaining ingredients simmered for 10 minutes turned the stove to low low and left it for apprx 1 hour. No effort and the resuting soup is very very spicy tasty good. I will freeze the remaining portions Thanks Lene, great recipe
Preheat the oven to 200 degrees centigrade. Place the parsnips, garlic and ginger in a large, deep roasting tin, drizzle over the oil, season with salt and pepper and roast for 20 minutes until golden.
POur in half the stock, the coconut milk and curry paste and return to the oven for a further 20 minutes until the vegetables are tender.
Transfer to a liquidizer and blend until creamy and smooth. Add the remaining hot stock and the corriander and check the seasoning. Ladle into warm bowls and serve with root vegetable crisps.