Curried Pan-Fried Potatoes
Kelly M.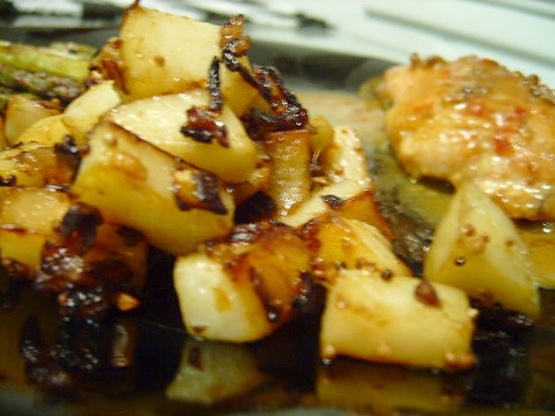 Don't have any O.J. to accompany your scrambled tofu? No problem: potatoes, eaten with the skins on, are a great source of vitamin C. Pan-fried potatoes are a great side dish for any breakfast entree. So eat your spuds! Serve with baked beans and toast.

I agree with wizkid, they were very good but needed some more spice. I also added a bit more oil throughout as my garlic was burning. I would wait until a little later to throw the garlic in next time. I think some hot chiles or cayenne would spice this up a bit more for my tastes.
In a large saucepan, add the onionsm garlic, mustard seeds, and curry paste to a splash of olive oil and saute on medium heat until mixed well and onions are translucent.
Add the potatoes and fry, flipping occasionally, until the potatoes are soft enough to pierce with a fork.
Season with salt and pepper to taste.