PaulaG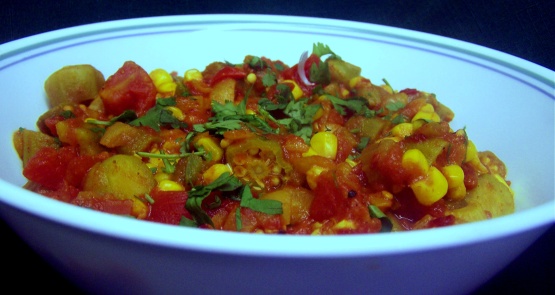 If you like it hot, use as many of the hot chilies as you like, or leave them out. With some grilled chicken or fish or shrimp, makes a very nice meal. Cooking time does not include defrosting time if you have to use frozen okra.

for some reason, it was really hard to find an okra in tomato sauce recipe - even in all five of my Indian cookbooks. this was a great find and a universal favorite at my group's "Indian Night." the color is beautiful and the sauce flavorful enough it could easily go vegetarian w/ water instead of chicken broth. i'm going to try adding a bit of tamarind next time to try to approximate a dish i had in a restaurant that had a tart foil to the sweet tomatoes.
1 1⁄2 lbs fresh okra or 2 (10 ounce) packages frozen okra

4

cups tomatoes, peeled, cored, seeded and crushed or 4 cups canned tomatoes, crushed, preferably organic
1⁄4 cup peanut oil or 1⁄4 cup canola oil
3⁄4 cup onion, chopped fine

1

tablespoon garlic, chopped fine

1

tablespoon curry powder

1

teaspoon ground coriander

2

tablespoons hot green chili peppers, chopped (optional)

3

tablespoons coriander leaves, fresh, chopped
3⁄4 cup chicken broth, preferably homemade and unsalted (or vegetable broth)
salt & fresh ground pepper
If fresh okra is used, trim off tough stems.
If frozen okra is used, defrost and drain.
Put the tomatoes in a saucepan and bring to the boil.
Cook, stirring often to prevent sticking, until the tomatoes are reduced to about two cups.
Heat the oil in a saucepan over medium high heat and add onions and garlic.
Cook, stirring, until the mixture is softened.
Sprinkle with curry powder and ground coriander and cook briefly.
Stir in the tomatoes and cook about five minutes; reduce heat if mixture is sticking.
Stir in chilies and fresh coriander.
Add the okra, chicken broth and salt and pepper to taste.
Bring to a boil, reduce heat and simmer 15 minutes or until the okra is tender.