PaulaG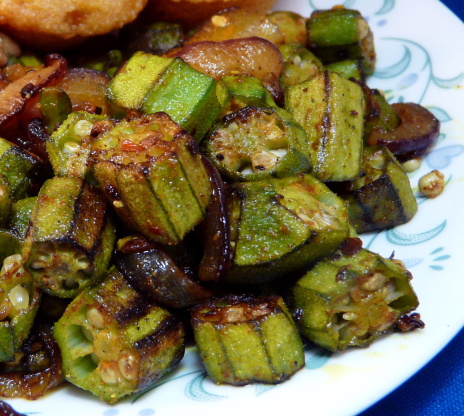 An African side dish. This also makes a nice sandwich filler.

I have never liked okra before, but since it is good for your health I really wanted to try to like it. Well, with this recipe I don't have to try to like it, it is really good!! I think next time I'll add more curry powder for a little more flavor, but it was really delicious and not slimy at all!
Cut off the ends of the okra pods.
Slice the pods into approximately 1/4 to 1/2 inch rounds.
Peel and slice the onions.
Place the sliced Okra into a glass or stainless steel bowl and sprinkle liberally with salt.
Cover with the iced water, making sure that all slices are under water; refrigerate for at least 2 hours.
Remove the bowl from the refrigerator and drain off the salt water.
Heat the oil in a heavy skillet over medium high heat.
Add the Okra and fry until lightly browned. (Approximately 10 minutes).
Turning frequently to prevent sticking.
Add the remaining ingredients and fry for a further 3 minutes, until the onions are soft.
Serve hot.