cyaos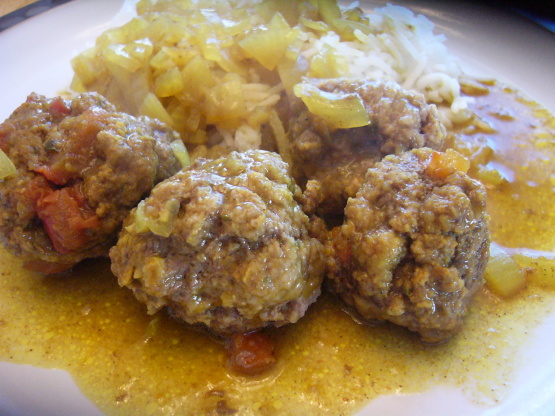 I was given this recipe by a co-worker of mine who grew up in South Africa. It is from "Everyday Cape Malay Cooking" by Zainab Legardien. I have modified the recipe to either be more in line with our tastes or to use ingredients that I can get at my local grocery store. You can serve this with rice, spinach or by itself.

Taste: 5 stars Cost: 2 stars (casual cooks in the US will need to buy some of the more esoteric ingredients) Ease of preparation: 3 stars (takes a bit of time, but is fairly straightforward) Pleasure in making: 4 stars (the house smells great, if you like a strong smell of curry for a few days, which I do)
Heat oil over medium heat and stir-fry the onions.
Add cinnamon stick and water, then add tomato sauce, garam masala, turmeric, ginger paste, salt, starseed petal and vinegar.
Mix well and leave to simmer on low.
To prepare the meatballs, place breadcrumbs, parsley, ghee, tomato and ground beef in a bowl and mix well but lightly.
Form into medium-sized balls.
Add meatballs to simmering sauce and add more water if necessary.
Reduce heat and add bay leaves, sugar, all spice and breadcrumbs - IT IS IMPORTANT THAT YOU DO NOT STIR AT THIS STAGE.
Simmer, covered, until done (about 15 minutes).