rpgaymer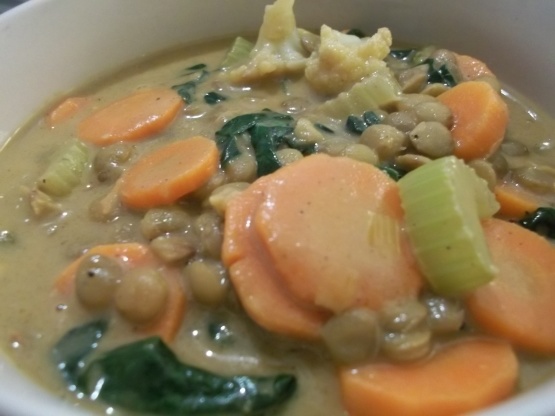 A fabulous recipe from Australia's Hot & Spicy Cooking book. My ex-husband and I fought over who'd get this grocery store purchased magazine-book! I haven't found a dud in this book yet! :)
This was a great meatless meal. I usually don't like peanut butter curries as they tend to be a bit too rich-tasting for me, but this recipe had just the right amount. Based on previous reviews, I ended up adding the carrots, celery, and cauliflower near the end of the cooking time. The veggies did not end up mushy at all. I also used whole brown lentils as that's what I had. Great recipe - thanks for sharing!
In a heavy-based saucepan, heat butter, margarine or ghee. Add green onions, carrot and celery and fry, stirring occassionally, until vegetables have softened, about 10 minutes.
Remove pan from heat. Stir in curry powder and flour, mixing well. Return pan to heat, cook for 1 minute then gradually add stock. Cook, stirring until sauce boils and thickens, about 3 minutes.
Add peanut butter, cauliflower and lentils, lower heat and simmer covered 20 minutes or until lentils are tender.
Stir in spinach, simmer without a lid for 5 minutes or until spinach has wilted slightly.
Add yogurt and season to tase with salt and pepper. Continue cooking until heated through, about 2 minutes.