Curried Lentil Soup with Carrots
Sazza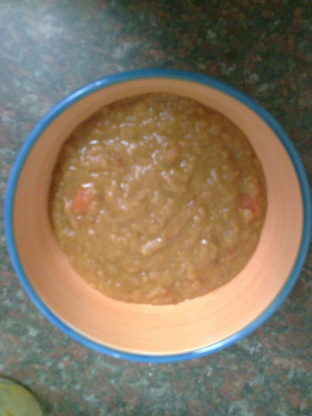 I love the spices in this. Just a little bit hot, with the flavor of curry that I love. It warms me up inside. I'm always watching my pepper plants which I brought indoors over the winter to see if they have a few peppers on them to put in something like this. My Thai dragon plants have been giving me peppers all along (with a little help!) When I run a little low, I like to visit the Asian grocer for a big pack of green chillis (which are almost just as good), but I like the red ones best.

Top Review by Sazza
I made this soup for the Aussie/Kiwi July 08 Recipe Swap. I've been making a lot of soups lately (being our winter over here) and freezing them for our lunches, so this recipe swap was a perfect excuse to try this recipe out. I'm so glad I did! It is a beautifully flavoured soup with the spices not being too over-powering. The lentils give it a lovely thick texture which is both filling and warming on cold days. I didn't have any fresh chillies, so I added about a teaspoon of chilli flakes. I also added a teaspoon of ground coriander because I wasn't planning on using any fresh herbs as a garnish but I still wanted the flavour of it in the soup. My husband and I both loved this soup and it is one I will make again regularly. Thanks Sue L!
Sort lentils and rinse under cold water.
Cook onions in oil in skillet until tender.
Add the garlic, turmeric, cumin seeds, salt, pepper, chopped chillis, and cook until spices are just aromatic.
Place mixture into crockpot, along with the tomatoes (with their juice), carrots, lentils, lemon juice, and broth, stirring to mix thoroughly.
Cover and cook on LOW for 8-10 hours or on HIGH for 4-5 hours or until vegetables are tender.
Add coconut milk, and cook on HIGH for an additional 20 minutes.
Serve garnished with cilantro.