Curried Lentil and Spinach Soup
Parsley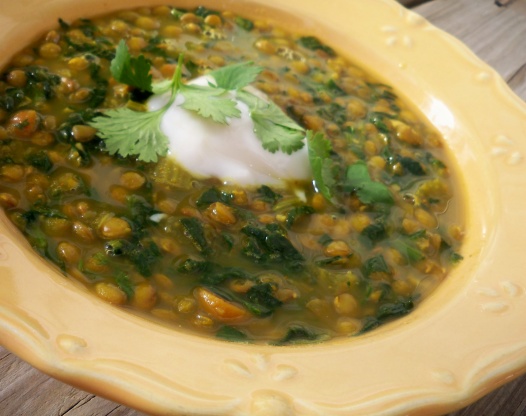 Found this health recipe full of healthy ingredients and thought I'd post it.

This is a tasty soup! I modified it a bit. I added 1 tbs of garam masala, increased the pepper flakes to 1/2 tsp, and substituted a package of frozen chopped spinach. I sauteed the veggies and seasoning and then added everything to a crockpot which had the water (+2 morga veg bouillion cubes) and cooked it on high for about 6 hours. I used brown lentils, because the recipe didn't specify which kind of lentils and that's what I had on hand. I thought it needed more salt so I added about 1/2 tsp at the end.
Heat oil in heavy pot and sooknext four ingredients until golden, about 10 minutes.
Stir in all spices and add water and lentils.
Reduce heat and cook until lentils are tender, about 25 minutes.
Add the spinach and cilantro and cook until wilted, about 5 minutes.
Season with salt and pepper.
Serve topped with a spoonful of yogurt.