Parsley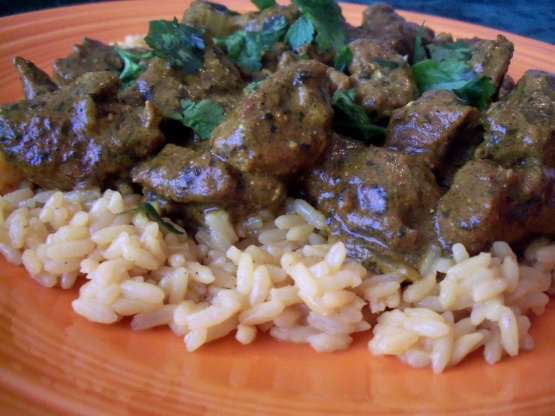 We don't have lamb for dinner very often - usually when we do, it's a traditional leg of lamb when my mother is visiting. This, however, is a nice, simple, and easily-made variation for when you find less expensive cuts of lamb.

Excellent! My husband and I thought it was very tasty (and he is normally not a fan of lamb.) We have had it twice, once with rice and once with rotini pasta, and the sauce is perfect for the rotini. I used non-fat plain yogurt and it worked fine. Definitely a keeper!
Soak onion in water until soft about 5 minutes.
Heat oil in large skillet over medium high heat, and add the onion and saute until golden about 4 minutes.
Reduce heat to low, then add coriander, cumin, cardamom, ginger, tumeric, garlic powder, freshly ground black pepper, and ground red pepper (cayenne), and stir 1 minute.
Add the cubed lamb meat to skillet, then increase the temperature to medium-high and cook, stirring frequently, until meat is evenly browned, about 10 to 15 minutes.
Add stock and salt, reduce temperature to medium, cover, and simmer until meat is tender, about 20 minutes.
Uncover and simmer an additional approx 20 minutes until the sauce is thickened to desired consistency.
Stir in yogurt and lemon juice and serve immediately over cooked rice.