Curried Kielbasa and Black Beans
Mgnbos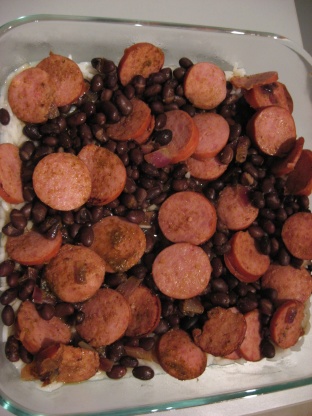 I know this sounds like an odd combination, but I've had this recipe for years and it's become a standard at our house. Everyone enjoys it. I got the original recipe from a magazine years ago, perhaps Cooking LIght, but it was such a long time ago that I'm no longer sure. This is my adaptation. It can be on the table in 20 minutes.

I questioned the outcome of this recipe all the way through! But in the end it was delicious and that's what matters! I used TURKEY kielbasa and served the dish over santa fe rice. We topped it with mozzarella cheese and a few shakes of Cholula hot sauce. Just a big, hearty pile of 'curried YUMMINESS' ! Thanks for helping with dinner tonight, windhorse23!
Heat olive oil in skillet over medium heat. Add onion and curry powder and cook about 3-5 minutes, stirring often, until onion is tender.
Stir in sausage and broth. Simmer 3-5 minutes. Stir in beans and cook until everything is heated through.
Remove from heat and stir in vinegar.
Serve over hot rice.