Curried Fish -(Mchuzi Wa Samaki)
Zurie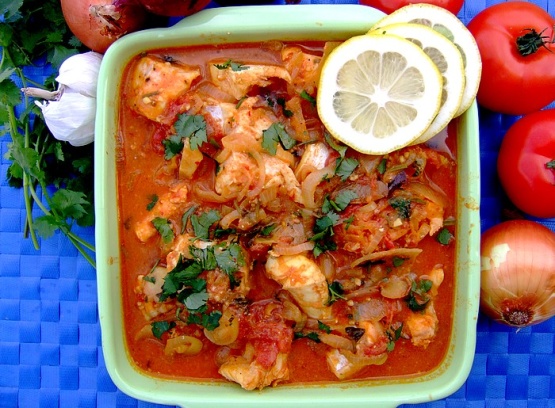 This came from a KENYA AND TANZANIA web site and is specifically Swahili. They suggest using red snapper. I wonder if catsup could be subbed for the tomato puree? Serve with rice. Posted for ZWT4.

Russ cooked this for our dinner tonight. It seemed to me (watching) to be a simple recipe and was very yummy to eat! He used half a 440g can of tomatoes, three teaspoons of curry powder and tomato paste rather than puree. We catch and eat a lot of fish and I have to say I really enjoyed this one. Aussies, we used leatherjacket fillets and as Russ had cut them to bite-sized, he simmered the sauce for about 15 minutes, then slipped the fish in and cooked for about 3 more minutes.
Fry onions in vegetable oil until brown.
Add garlic and curry powder.
Stirring vigorously, cook for 1 minute on medium heat.
Add tomatoes, tomato puree, fresh coriander; cook for another minute.
Add fish, lemon juice, salt, and water.
Cover and cook on low heat for 15-20 minutes.
Serve hot with rice.