Peter J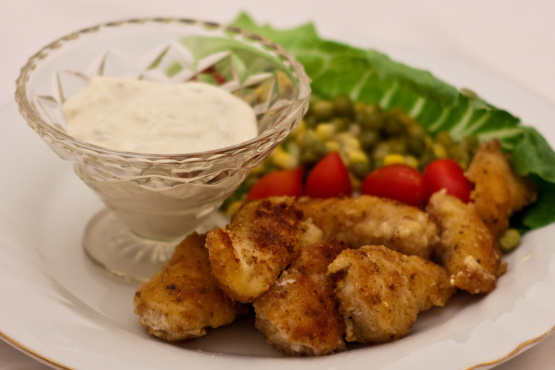 Fresh fish fingers with a delicate curry flavour. In NZ I like to use snapper but any firm white fish should be fine to use. A cheap meal if you catch your own fish :) this is another from my old trusty (1970's)Alison Holst cookbook.

Wonderful! I was a bit sceptical there was enough curry powder but it was just a great hint that didn't overpower the fish. I used some Australian Monkfish and I think it's a great recipe for fish like that or Snapper as recommended that has a 'medium' amount of natural flavour. We enjoyed the full quantity as a main for two along with a salad and tartare for dipping.
Cut the fish fillets lengthwise into 3/4" (2cm) strips, then crosswise into fingers. Cut crosswise with the knife at an angle so the fingers taper at each end.
Mix the seasoning with the water, then add the egg.
Coat fingers with flour then egg mixture then breadcrumbs for a thick coating.
For a thinner coater just dip in egg mixture and then breadcrumbs.
Stand coated on a rack for 15-30 minutes if desired for the coating to firm.
Cook the fingers in 1/4" (5mm) of oil in a hot pan for 2-3 mins, turning once, until the coating is golden brown.
Drain and serve with wedges of lemon if desired.