Axe1678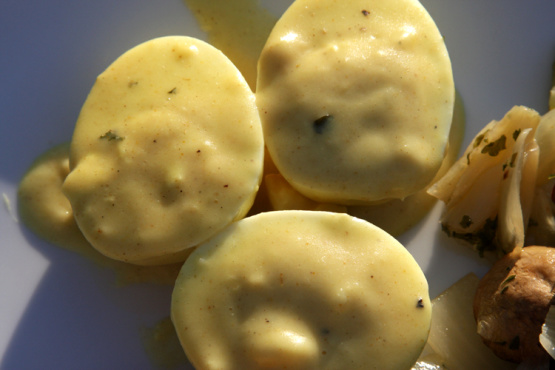 I had forgotten about this recipe and came across it again today. I remember the family liking this dish so I am about to start making it again. This is a great recipe if you have fresh eggs to use up!

Very good and very easy! I made this to stretch out our India House leftovers. We ate 3 of the eggs and hubs will take the remainder to work for breakfast tomorrow on toast. This makes a LOT of sauce even though I reduced the milk to 2 cups and it was thick but not gloppy. I used 2 teaspoons of red curry powder and next time I will increase it to 3. I added about a 1/3 teaspoon salt, it didn't need any pepper for us.
Cut shelled eggs in half.
Put shallots and butter in pan and gently cook until shallots are soft and clear (not coloured).
Sprinkle on the flour and curry powder and cook 3 minutes, stirring constantly.
Gradually stir in milk and cook about 8 minutes or until it is a smooth and thick sauce. Add more milk if sauce is too thick. (Consistancy should be that of thick pouring cream).
Add mustard and lime juice and salt and pepper to taste. Add eggs and heat through, be very careful not to break eggs.
Serve.
TIP~ When making sauce to avoid a lumpy texture, add liquid all at once if cold, gradually if hot and stirring consantly.