Pneuma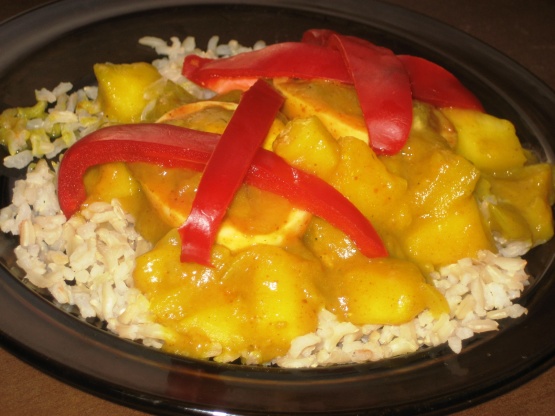 This is based on a recipe from The Encyclopedia of Creative Cooking, edited by Charlotte Turgeon.

Top Review by Pneuma
These are so delicious and yet so quick to make! Cooking time's actually just less. Was done in 30mins all in all. While the curried apple sauce was cooking, I fixed the rice on a plate, sliced the pimientos and the eggs so that by the time the sauce was done, all I had to do was just heat through the eggs and arrange it on the platter. Love the blend of apples,curry and onion. They balance the sweetness of apples and strong flavor of curry. Was even tempted to eat more than a serving. lol Thanks for sharing this, mersaydees!
Heat oil in 12-inch skillet over medium heat. Add onion and saute until soft but not browned.
Add flour, curry powder, and a little salt; stir over low heat until mixture forms smooth paste.
Add stock gradually; stir until boiling.
Add apple and Worcestershire sauce; cover.
Simmer gently 15 to 20 minutes.
Add eggs; heat through.
Place rice on large platter; arrange eggs and sauce on top.
Crisscross pimiento strips over egg.
Serve with chutney.