Curried Egg Salad Sandwich on Raisin Bread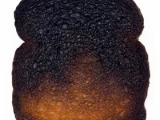 Found this recipe while browsing the sunmaidraisin.com website;- with a little bit of fine tuning. Whole milk plain yogurt replaces some of the mayonnaise. Skip the coconut if you don't like it. It's good either way.
Directions
Combine the yogurt, mayonnaise, coconut (if using), green onion, curry powder, salt and black pepper.
Stir in eggs and cashews.
Divide and spread the egg salad mixture between four slices of raisin bread. Add the spinach leaves and top with the other four bread slices.
Serve with fresh sliced mangoes and papayas!