Ambervim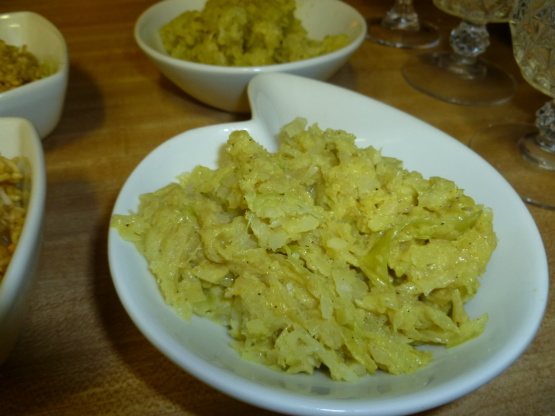 Different way to have cabbage, with an Indian flair.

I had never thought of creaming cabbage. It was very easy and tasty. I will probable triple the curry powder next time though. Two friends ate it and both liked it. One turned his nose up at the idea, but asked for more after he tasted it.
Place cabbage in saucepan and cover with at least 1" water.
Bring to a boil and simmer 5 minutes. Drain cabbage.
In a skillet, melt butter over lowheat, and add curry powder, flour, salt, and pepper.
Cook, stirring, for 2 minutes; remove from heat.
Add milk slowly, while stirring to avoid lumping, and return to heat.
Bring to a boil, stirring constantly.
When thickened, stir cabbage into sauce and serve hot.