Curried Chicken Salad With Fruit
ImPat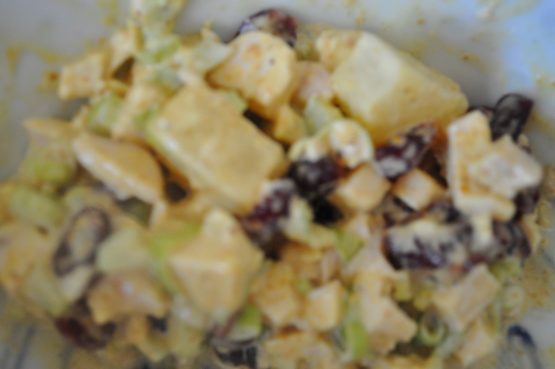 A lovely twist on chicken salad, with a delicious blend of flavors. I adapted this from a clipping from Cook's Country that my mom gave me. It works as a sandwich or wrap filling, and I also enjoy serving it over some fresh greens. Adjust the curry powder to your taste - I have found that different brands have different strengths.

I found this recipe while searching for a curried chicken salad, having recently enjoyed one from a restaurant salad bar. The pineapple & cranberries really compliment the curry. This salad is great and if you are a curry lover as I am, I hope you'll try it!
Combine the mayonnaise, lime juice, curry powder, cumin and coriander; mix well.
Add chicken, celery, onion, pineapple and cranberries and toss to cover all with the sauce.
Add salt and pepper, to your taste.