GaylaJ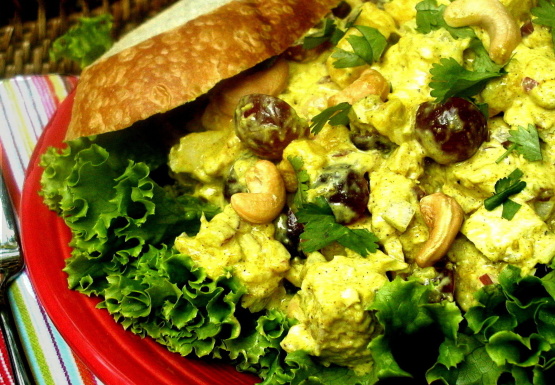 Delicious main dish salad, perfect for a summer lunch or light supper. I typically use Madras (hot) curry powder, but used a mild blend in this dish as I felt it would benefit from a lighter flavor. Use your own preference and adjust the amount to suit your taste. I garnished with fresh cilantro to add some color, but also ended up really enjoying the flavor it added. The original recipe does not give any chill time, but I think it tastes more balanced after some time in the fridge. -Adapted from Gourmet

Top Review by Derf
Lovely currie chicken salad, love the sweet coolness of the mango and grapes with the heat of the currie. Nice finish with the crunchiness of the cashews. Very nice combination of flavours! Have to admit I used only about half of the currie powder called for and it was enough for us. Thanks for sharing a repeater!!
Bring water and chicken broth to a simmer in a 2- to 3-quart saucepan.
Add chicken and simmer, uncovered, 6 minutes.
Remove from heat, cover pan, then let stand until chicken is cooked through (about 15 minutes).
Move chicken to a plate, let cool 10 minutes, then chop into 1/2-inch pieces.
While chicken is cooling, whisk together mayonnaise, yogurt, curry, lime juice, honey, ginger, salt, and pepper in a large bowl.
Add chicken, onion, mango, grapes, and cashews; gently stir to combine.